So, according to the New York Times, a new, previously unpublished Dr. Seuss book originally called The Pet Shop will be published this year as What Pet Should I Get?.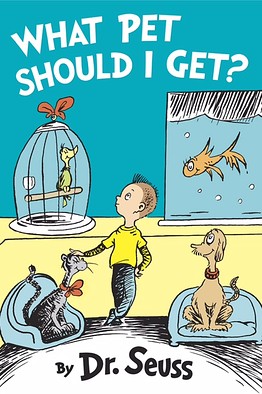 Because I practice copyright law, my first thought was "what's the term of copyright for this work?" You see, figuring out how long a work remains protected by copyright can be a hard problem (incidentally, I worked on this problem in law school – and you can get an idea about what's involved by looking at this Copyright Term Chart published by Cornell University).
For the purposes of this post, I assume that the first publication will occur in the United States. So, the copyright term for an unpublished, pseudonymous work is 120 years from the date of the work's creation. However, the copyright term for published works lasts for the life of the author plus 70 years. The statutes just aren't clear on which term should apply in this case. So a court would likely decide the issue (and perhaps some courts in the past have already decided the issue – but such decisions are perhaps not necessarily binding, depending on the circumstances).
Nevertheless, Dr. Seuss died in 1991, so the copyright term could end in 2061. However, Dr. Seuss is the pseudonym of Theodor Seuss Geisel, and many of his works were registered as pseudonymous works (e.g., The Cat in the Hat, copyright registration no. A00000281039, renewed January 31, 1985 as reg. no. RE0000240391, the records of which are viewable via the Copyright Catalog). So, the work could be considered an unpublished, psudonymous work, and, if so, the term could end much later (e.g., if created in 1960, the term would end in 2080, that's 19 years later).
So, expect litigation in 2062, when people start trying to claim that the work has entered into the public domain based on the life+70 term, and the then-owners of the rights to the book claim that the creation+120 term applies.