The Internet is an amazing tool for communications, literally letting anyone publish information for others to view; and search engines like Google let the world find that information. Unfortunately, the fact that anyone can publish information on the Internet also has some downsides… Notably, it's easy for anyone with a grudge to post misleading information about a person or business with whom they have a problem.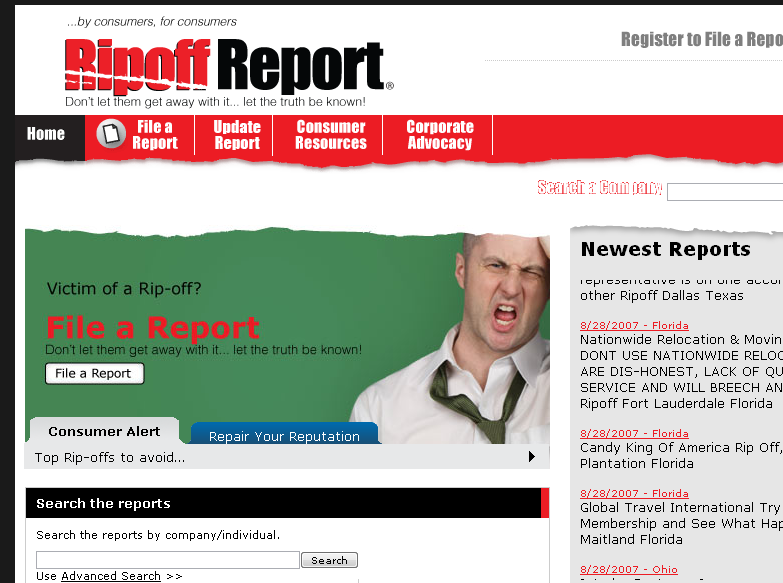 You may have heard stories about businesses with bad reviews online, on websites such as Yelp, Ripoff Report, or just bad reviews posted on people's personal blogs. Websites like these give consumers the ability to post constructive criticism (and hopefully, businesses provide better service). However, sometimes reviews go from being "constructive criticism" to more than that. For example, Gimlet Media recently published Episode 40 of the Reply All podcast, which discussed how some (apparently false) negative reviews posted on Ripoff Report damaged one business.
The problem, as they detailed, was that an anonymous individual posted a highly negative review for a fledgling business, and the top Google search results for that fledgling business included the negative reviews on RipoffReport.com. Many businesses have similar problems. Even though the vast majority of consumers have good experiences, the few complaints that get posted online tend to have an over-sized effect.
What is a business to to? Contact the review site to have the negative content removed? Some sites have a policy of only removing negative reviews for businesses that pay hefty subscription fees. Also, Ripoff Report apparently has a policy of never removing any reviews! So, then what/ Sue the review site? Unfortunately, Section 230 of the Communications Decency Act limits liability for providers of interactive computer services. In other words, most websites are shielded from liability for information their users post (not that this is necessarily a bad thing generally… it might be difficult to operate an internet search engine without such laws… and we all generally benefit from being able to search the world's information on sites like Google, right?).
So, what's the solution? What is a business with negative reviews to do? If the problem is truly a smear campaign orchestrated by a competitor, it may be possible to sue for defamation, unfair competition, or otherwise — and I recommend that you consult with your lawyer to help walk you through the options.
However, another option is to take control of your reputation online. Most simply, this means making sure that when people search for you, they find you first (and not the negative reviews). But, this also means developing enough content so that when customers search for you, most of the first page or two of the search engine results pages (SERPs) contain positive information about you – not bad reviews.
How can you do this? Well, Jim, I'm a lawyer, not a Search Engine Optimization Consultant. But, here are a few tips:
Optimize your Website. Most simply, this means making sure the title of your website is your company name. It's hard for Google to know your website is about your business unless you use the name of your business a few times, and in important places. There are also a number of other things you can do to optimize your website.
Control content on more than one website. For example, you might have your main website, a blog on a separate domain, Linked In, Twitter, and Facebook pages. You might even start a Youtube account, posting relevant informational videos about your business.
Third party content. Get content on third party blogs (i.e., get them to write about you). Write guest posts. News articles written about your company. You can even try to get included in online directories.
Get others to link to you. Another important way for Google to understand that you're important is for Google to see others linking to you.
Link to yourself. You can also help yourself. As you place more content online, make sure that all of the new content links to your other content.
But don't take my word for it. You can read more about online reputation management here, here, and here.